Not long ago I had the privilege of meeting Speo, creator of MagicDSC and overall astronomy hobbyist/fanatic, in-person. Thanks again for the crash course on sky watching – I look forward to fiddling with your project more while embracing the hidden beauty of the night sky.
Suffice to say, I'm now the owner of a 6″ Dobsonian SkyWatcher.
---
I've been fascinated with the night sky for the longest time considering the amount of time I spend awake during it from my abysmal sleep schedule.
I thought it's about time I tapped into a proper tool to observe its many mysteries, and here we go.
Moving forward, I'll be documenting my journey with this cool piece of tech under #astronomy – including the following on how I improved a cheap red dot viewfinder with an old ball point pen.
---
Tweaking a Red Dot ViewFinder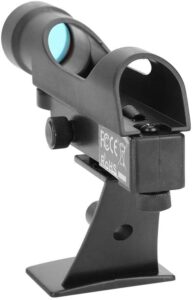 While super useful and affordable, I noticed it had quite a bit of wobble in both the X and Y.
You can easily fix this using a few small spacers, but I didn't want to have to disassemble it again and remove a spacer if I need to re-align it.
For that reason, I ended up stealing the spring from a non-functional ball point pen and cutting it into small segments that I put between the X and Y knobs and the viewfinder frame. After doing that, the wobble was pretty much non-existent.
You can also re-position the spring between the head of the screw and viewfinder body assuming you find yourself calibrating -X/-Y more than +X/+Y.
I can now release tension on each axis without having to adjust how many spacers I use to align it.